We repeat over and over actual experiment at our laboratory to require best materials and best designs. From big apparatus to small joints, all KIRIYAMA products are developed everyday by suggests from producers and users.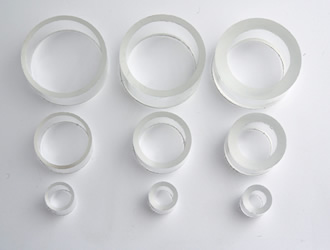 From left side,
Standerd weight glass tudes
Medium weight glass tubes
Heavy weight glass tubes
Small and Normal size equipment
KIRIYAMA glass products were used Medium weight glass tubes. The tubes are rather expensive than Standard weight glass tubes in major uses in the market but Medium weight glass tubes are stronger, unbreakable. We choose Medium weight glass tubes for safer experiments.
Medium and Big size apparatus
Medium and Big size apparatus are used Heavy weight glass tubes. For big apparatuses it is not necessary to use thick glass tubes because of more volume and higher temperature by complicated experiment. For producing apparatus, we always decide best glass tubes from several kinds of glass tubes for each part depends by apparatuses selves' weight, solvent volume and temperature during operation.
For safety products
For safety and useful, KIRIYAMA products have original designs.
For example, our Dimroth method condensers' hose connections have thick glass tubes, short length and angled easy to pulling out hoses. Especially we have improved, weak points of laboratry glass wares like stopcocks and gas manifold.
Nowadays, safety management is more important at laboratory than old days. We offer safety experiments.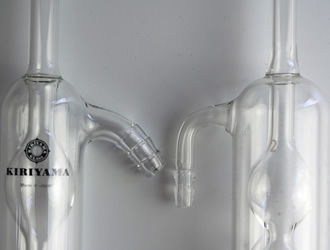 Compare
left; KIRIYAMA hose connection
Right; other productions' hose connection